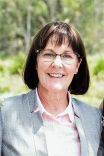 Robyn Tucker
Principal and Licensee - 3142804
Phone: 0428 355 717
About Robby......

Married to the love of my life. Have lived on large rural properties for many years, however experienced a long stretch in the 'big smoke' and know how that works as well!

Originally a Strength and Conditioning Coach at the AIS (Australian Institute of Sport) in Canberra ACT.
Owned and operated Kinetics Gymnasium in Merimbula on the Far south Coast NSW for 12 years successfully achieving 2nd place in NSW and 4th in Australian championship ANBF natural body building titles.

Moved to Queensland for family matters in 2004 and spent 12 months attaining full Real Estate Licence under the mentorship of a prominent Agent on the Gold Coast, then successfully owned and operated 2 terms of Real Estate franchise before deciding to go independent.

I now pride myself in the fact that I have a client base that keep coming back to list and sell and are happy to refer their friends and family. So I must be doing it right the first time around!

Robyn specialises in Rural properties. She understands how bores, water licences and farm modules work.

Community involvement:
Sponsor of the Bendigo Community Bank.
Active supporter of the Wandering Warriors SAS and Commando regiments PTSD initiative.

Robby has been practicing since 2005.